In January 2012 we ventured out on a ground breaking new party on the high seas called Holy Ship! The only way to describe it is by using an over used word; it was truly Epic. Three Days of cruising, and two stops on islands in the Bahamas, including a port town and a private Island. Showcased aboard the glamorous if not a bit gauche, MSC Poesia were some of the world's leading producers in the "who's who" of dance music. Definitely not the most underground names, but for certain, some top notch talent. Grammy winning in fact, if that is important to you. Articles released after the sailing on the Huffington Post, Mixmag, Rolling Stones, and many more well regarded publications, had something to say about it. Interestingly, this Maiden Voyage had rooms still available the day it sailed; I think people didn't know what to make of it. After all, with a range of music from minimal techno and old school disco artists to bassline to electro to dubstep, what sort of crowd will this draw? One couldn't help but wonder who we were all signing up to spend the next 3 days ocean bound together with. It was an absolute adventure like none other, complete with the perils of a minor ship wreck when a tug boat accidently lugged the large Italian vessel onto a sand bar. People kept a good attitude the entire time and spent the day adventuring on the islands, laying out in the sun, and other such tropical pursuits. A bit of sand was displaced but the boat was fine and the adventures continued. The second day included dancing in the Ocean and on the beach on a private island to the likes of Fat Boy Slim and others. As a dance music supporter and appreciator for decades, it was a vacation to remember. Being able to wander a huge ship from club to club with the only aim to enjoy music and friends (and of course a cocktail or two) is a nice little dip away from the demands of real life for just a moment. Warm island breezes on your skin with the moon shining up above in the center of the sky filling your eyes with light and quality music in your ears, and a nicely mixed cocktail in your hand, is a deserved break for any dancing enthusiast.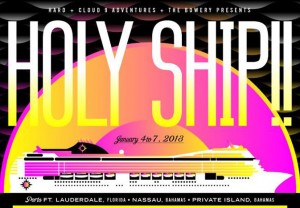 Everyone had such a blast, that when it was time to book for January's 2013 cruise, it over 50% sold out to return cruisers and completely sold out in two days before even announcing the lineup. Talk about the power of word of mouth. So 2013 rolls around, time to set sail for Holy Ship!! not only are we riding the most bumping boat to ever sail the seas it's also extremely hyped this time around. Definitely the second time through was a different experience from the first. It was quite enjoyable as well, but it was certainly different. Innocence lost for the ol' Poesia, I saw some less savory behavior (if you are an offender you know who you are), but overall another a pleasurable danceathon with a few nice island moments and a whirlwind of celebrity DJ's. Dancing under the stars in the middle of an inky black ocean in a wild pirate party seems fitting given the history of the area as the Bahamas as a popular hideout and destination for pirates of centuries prior. Many good musical moments of course, including the Fool's Gold Rap party which featured a then relatively unknown Baauer as a surprise guest right before the Harlem Shake video craze ripped across youtube. The usual suspects who we love, such as A-Trak and Diplo also highlights of the voyage. As well as Gesaffelstein, Boys Noize and Kill the Noise ripping it up. I was a bit sad, Busy P didn't show up as I as looking forward to his selection of choice french, electro and house cuts. We also enjoyed a late night set from Digitalism that tore up the floor a bit. Justice DJ'ed but I prefer them live. But hey, I was still on a cruise ship with Justice, why not?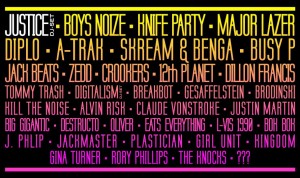 What will 2014 hold? Well if you didn't get a ticket already you will need to find someone who's buddies bail on them and they have room in their cabin, because it sold out already in the prebook. Mostly to return shippers. This is an exciting phenomenon of a ride for the electronic music revelers I recommend experiencing it at least once if you enjoy dance music. I brought a small camera around and have a vacation like video from this time around for you to check out – mostly I'm recovering from working long hours and so dipping into a all night dance party like this was a bit of challenge and I was grateful for the inclusive coffee and snacks in the cafeteria that were perfectly adequate to fuel my dancing shoes (also a vodka redbull or three assists as well).
Enjoy the video below as I narrate through our little voyage.
You can also play find Julia as I'm in both of the official videos for a few frames.
Holy Ship! Official Video

Holy Ship!! Official Video

^hint this one is really hard, I'm in orange sunglasses and waving from a ferry